Ordering a fine glass of Cabernet Sauvignon while your canine companion rests by your side — could anything be more delightful?
This dreamy scenario is entirely possible in Napa Valley, a region renowned for its world-class wineries. The valley's various pet-friendly wineries welcome wine connoisseurs and their fur babies.
Napa isn't just about exceptional wines; it's a place to create memorable experiences with your four-legged friends.
But with over 500 wineries in Napa, how do you know where to go?
This is where the expertise of Napa Concierge comes in handy. Equipped with a wealth of local knowledge, we, as the Concierge of Napa Valley, let you in on the valley's hidden gems. Our team facilitates wine-tasting reservations and offers personalized recommendations to meet your and your pet's preferences.
Your venture into the best-hidden gems Napa's wineries offer is a read away.
Below, we will unveil the top dog-friendly locales brimming with opulence, where Napa's wine-tasting journey embraces the companionship of your four-legged friends.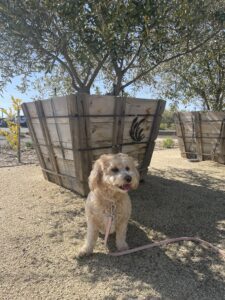 How to Enjoy Pet-Friendly Wine Tasting in Napa Valley?
Taking your pet along for a wine-tasting experience can be an enjoyable and memorable experience. However, to ensure a comfortable and pleasurable visit to the pet-friendly wineries in Napa Valley, here are a few tips to keep in mind:
1.   Research in Advance
Not all wineries in Napa are pet-friendly; hence, it helps to research and make a list of those who welcome pets along with their protocols.
2.   Make Advanced Bookings
Many wineries require appointments, especially now with limited capacity due to COVID-19 protocols.
3.   Leash Your Pet
Most wineries require that pets remain leashed for everyone's safety. Always take a leash along, even if your pet is well-behaved.
4.   Pack Essentials
Make sure to pack water, a bowl, pet snacks, and waste bags. It's crucial to ensure your pet always stays hydrated and comfortable.
5.   Be Considerate of Others' Space
Not everyone is a pet lover. Always ensure your pet does not intrude into the space of others.
6.   Mind the Weather
Napa can get pretty hot during the summer, which can be uncomfortable or harmful for pets. Choose cooler months for your wine-tasting tour, or ensure sufficient shade and water for your pet.
7 Top Pet-Friendly Wineries in Napa
Napa Valley is renowned for its luxurious vineyards and distinguished wines. It intriguingly bolsters a thoughtfully curated selection of wineries that seamlessly blend wine aficionado experiences with pet-friendly indulgences.
Let's explore seven pet-friendly locations to make you and your pet feel well-cared for.
1.   Alpha Omega Winery
First up on our list is Alpha Omega or AO Winery.
Nestled in the lush panorama of Napa Valley, the Alpha Omega Winery beckons for an elegant rendezvous of sophisticated wine tasting and pet-friendly indulgence. The winery, recognized for its award-winning wines, warmly welcomes visitors to share this captivating experience with their leashed pets.
As you explore the stunning beauty of this acclaimed vineyard, the attentive staff lavishes upon your furry companion the same degree of hospitality, striking a delightful balance between luxury and pet-friendly joviality. The serene happiness shared with your faithful companion amidst the vibrant vine-clad vistas accentuates every sip of the handcrafted wine here.
2.   Tamber Bey Vineyards
Tamber Bey Vineyards, one of the recognized wineries in Calistoga, offers the harmonious synchronization of equestrian beauty and viticulture genius creating an extraordinary realm that is more than just pet-friendly – it's a celebration of the animal spirit.
Your leashed pet can explore this lively montage of nature, animal companionship, and artisan wine craftsmanship. As you embark on this sensory journey through wine tastings, your pet can partake in a parallel exploration.
Tamber Bey, therefore becomes more than just a winery; it evolves into an animal lover's sanctuary, exuding an indulgent luxury that caters to the discerning wine connoisseur and the affectionate pet owner.
3.   Stewart Cellars
If you are exploring 'Yountville things to do' as part of your refined travel pursuit, consider immersing yourself in this luxurious haven catering to discerning wine aficionados and their faithful pets.
Stewart Cellars exhibits an unrivaled blend of sumptuous wine-tasting experiences and heartwarming accommodations for your four-legged companions. Here, leashed pets are not merely tolerated but genuinely welcomed to be part of your sampling of exquisite, artisan-crafted wines.
Stewart Cellars offers a uniquely luxurious experience that marries the enjoyment of premium wines with an inclusive, pet-friendly ethos that reflects the winery's warm hospitality.
Steeped in the remarkable winemaking tradition, the cellar showcases a diverse portfolio of hand-selected wines, each reflecting the richness of the Napa Valley terroir. Your leashed pet can partake in the outdoor grandeur as you savor each delicate note of the locally grown, hand-harvested varietals.
4.   Honig Vineyard and Winery
For guests exploring with their four-legged companions, Honig welcomes them with open arms. The estate's relaxed environment, abundant outdoor seating, and surrounding scenery are perfect for leashed pets. Your pet can bask in the Californian sunshine, reveling in the area's serenity as you leisurely sip some of the valley's finest wines.
They also offer eco-friendly wine tastings with unparalleled hospitality that add to the overall allure of Honig Vineyard and Winery.
This hearty welcome extended towards pets, combined with Honig Vineyard and Winery's commitment to sustainability and quality, creates a harmonious blend that stands as a benchmark in the Napa Valley winery scene. Whether you're there for the remarkable wines or the pet-friendly atmosphere (or both), Honig is a destination not to be missed.
5.   Clos Du Val Winery
Situated in the celebrated Stags Leap District of Napa Valley, Clos Du Val Winery marries luxurious winemaking and a welcoming atmosphere for wine lovers and their cherished pets.
Established in 1972, the winery is celebrated for its range of refined wines, including the Cabernet Sauvignon, Pinot Noir, and Chardonnay, all meticulously crafted for an elegant, fruit-forward experience.
With inviting outdoor spaces amid tranquil surroundings, the winery offers a warm welcome to pets. Alongside indulging in expert-led tastings and captivating storytelling, visitors can treasure the joy of a perfect escapade with their pets.
A visit to Clos Du Val promises a uniquely luxurious immersion into the world of high-quality wines and a delightful haven for pet lovers.
6.   Mutt Lynch Winery
Located in Sonoma County's Healdsburg, Mutt Lynch Winery presents a distinct fusion of high-quality wines and an ardent love for dogs. Known for its limited-production, handcrafted wines adorned with dog-inspired labels, the winery offers signature blends such as Portrait of a Mutt, a robust harmony of red and dark fruits with hints of pepper spice.
They treat your furry friend as a 'guest of honor' while offering complimentary dog treat flights for your canine companion.
More than just a winery, Mutt Lynch encompasses the epitome of dog-friendliness, warmly welcoming canine companions, and supporting animal rescue organizations through donations, time, and fundraisers.
7.   Migration
At Migration, they understand that a wine-tasting experience is not just for humans; dogs deserve a delightful share. Situated in Sonoma County's fascination, the winery provides an indulgent treat for you and your pet.
The winery provides tastings by appointment seven days a week, making it a delightful destination for both wine enthusiasts and their furry friends. While humans relish their handpicked flight of wines, pets are treated to a unique and tasty "Barkuterie" board.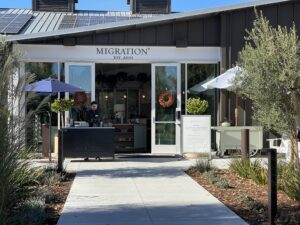 Filled with an array of enticing goodies, the Barkuterie board includes custom-made peanut butter biscuits, duck sausages, chicken apple sausage coins, and chicken-wrapped sweet potatoes, made especially for pets.
With a requirement to remain leashed for the comfort and safety of all guests, Migration offers a memorable experience that ingeniously accommodates the needs of both wine aficionados and their beloved pets.
Plan A Visit to the Pet-Friendly Wineries in Napa with Napa Concierge!
Planning a wine-tasting tour in Napa Valley?
Don't leave your beloved pet behind!
Thanks to the array of pet-friendly wineries in Napa, you can now share the joy of exquisite wine tasting with your four-legged friend.
Napa Concierge is here to guide and assist in tailoring a memorable wine-tasting adventure you and your pet can relish together. We strive to ensure your visit encapsulates the best Napa Valley offers – exceptional wines, beautiful vineyards, and a pet-friendly environment.
From scheduling appointments and recommending pet-friendly wineries and things to do in Napa to providing tips on enjoying a seamless and relaxed experience with your pet, Napa Concierge is committed to making your wine-tasting journey nothing less than extraordinary.