The Napa Valley Reserve
Nestled amidst the picturesque vineyard landscape in California's renowned Napa Valley, The Napa Valley Reserve is a unique private club for people who share a profound love of wine and the lifestyle that embodies it.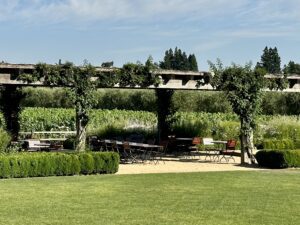 Winemaking Legend and Visionary Bill Harlan
The vision and inspiration for The Napa Valley Reserve belong to William (Bill) Harlan and his wife, Deborah. Bill Harlan is a Napa Valley wine industry legend known for founding Harlan Estate. This prestigious Oakville winery produces Bordeaux-style blends considered some of California's greatest wines.
With a deep passion for wine and a commitment to producing world-class wines, Bill Harlan sought to create a place where like-minded wine enthusiasts and connoisseurs could come together to celebrate their shared love of viticulture and the Napa Valley way of life. This vision led to the establishment of The Napa Valley Reserve, an exclusive private club that offers its members unique and unparalleled experiences in the heart of Napa Valley.
The Reserve was designed so members could enjoy superb wines and immerse themselves in other interests and activities. These interests and activities included culinary arts, travel, sports, and fine arts. The club's dedication to providing an elegant and private setting for its members to relax and indulge in their passions has made it an exceptional destination for those seeking an elevated wine country experience.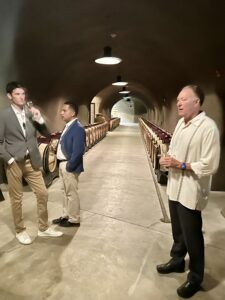 Stepping onto the grounds of The Napa Valley Reserve is like entering a world of luxury and refinement—lush vineyards with neatly manicured rows of grapevines basking in the warm sun. Mediterranean-style buildings blend with rustic touches, honoring the region's winemaking heritage in harmony with the landscape.
The Napa Valley Reserve embodies history and tradition, rooted in a passion for viticulture and a commitment to excellence.  This sanctuary harmoniously combines profound respect for the land and winemaking art. This makes it an ideal destination for those seeking to indulge in the finest wines and immerse themselves in the winemaking process.
The Experience of A Private Dinner at The Reserve
Napa Concierge experienced a tour and private dinner this weekend at The Napa Valley Reserve. We can say that it was extraordinary. Our hosts included Paul Asmuth, Director of Special Projects and Community Relations, Jen Norris and special hosts from Providence and Collabria Care, which is a wonderful organization, and Chef Itamar Amramovitch and his incredible team. Several board members at Collabria Care gave up their evening to host and serve us, which was truly incredible. They did it with so much poise and grace. We could not have asked for a better team of people taking care of us and our dear friend and Napa Concierge's partner, Toni von Dem Hagen, who was the reason this all came together.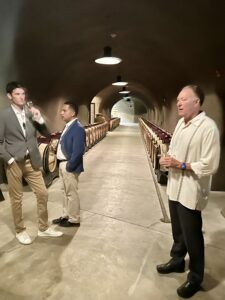 Chef Itamar Amramovitch prepared a culinary creation masterfully paired with exceptional wines handpicked from the reserve's impressive collection. The meal was a symphony of flavors that captivated our senses and left a lasting impression on the palate. The Roasted Baby Beet Salad included fresh beets from the garden and exquisite goat cheese pannacotta, caviar, and almonds. The goat cheese pannacotta was divine – velvety smooth and paired perfectly with the Reserve's crisp Sauvignon Blanc wine from their own vineyards.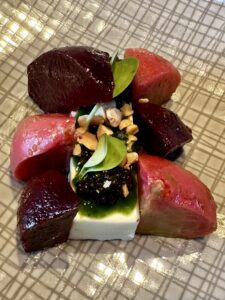 Next, we enjoyed the aroma of pan-seared rock cod, its perfectly seared exterior yielding tender, flaky, and subtly oceanic bites. The following course, the Preserved Lemon Risotto with Parmesan Emulsion, was a revelation of culinary artistry. The risotto is a creamy canvas showcasing preserved lemons' rich and vibrant flavors. Tangy yet nuanced, the preserved lemons infuse the dish with a delightful zing. The Parmesan emulsion adds velvety richness to this classic Italian dish.
Culinary Perfection: Duck Breast
The Roasted Dry Aged Duck Breast from nearby Liberty Ducks took center stage, a culinary marvel that reflects the chef's mastery of cooking techniques. The duck breast was perfectly cooked, with a succulent, rosy interior encased in crispy, golden-brown skin. The first bite is a revelation of tender, flavorful meat with a hint of smokiness, leaving you yearning for more.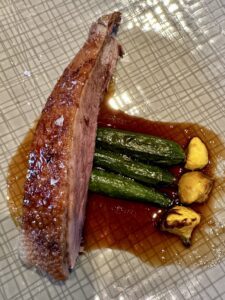 And then, to round off this exquisite feast, the Chocolate Budino takes dessert to unprecedented levels. A luscious chocolate custard, velvety and indulgent, delights the senses with its deep, bittersweet notes. The brightness of fresh raspberries thoughtfully complements the dish, their tartness contrasting the creamy richness of the Budino. The accompanying pistachio ice cream adds a delightful nutty element that harmonizes beautifully with the chocolate.
A homemade honeycomb crowns the dessert as a final touch, bringing a satisfying crunch and a hint of natural sweetness. With every bite, flavors harmonize into an unforgettable meal-ending symphony.
An Epicurean Adventure Created by Chef Itamar Amramovitch
This culinary journey is a testament to the top chef's artistry and passion for creating dishes that transcend the ordinary. Each course is crafted with precision and flair, showcasing the finest ingredients and innovative techniques. From the delicate flavors of the sea to the robust essence of perfectly cooked duck and the divine indulgence of chocolate and honeycomb, every element of this incredible meal is an ode to culinary brilliance and an experience to cherish forever.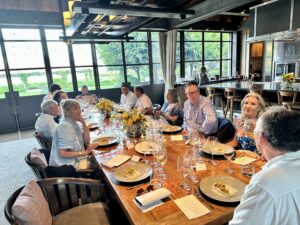 The Reserve's Winemaking
Beyond the dining experience, the tour offered a glimpse into the winemaking's inner workings. This is where experts share their knowledge and passion.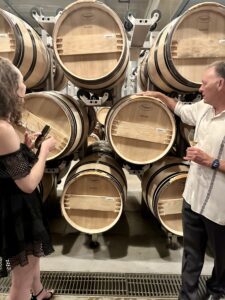 From strolling through the picturesque vineyards, feeling the grapes between your fingertips, to witnessing the meticulous craftsmanship in the winery, every step unveils the dedication and craftsmanship put into producing world-class wines.