The Dutch Door: A Gourmet Quick Bite in Historic Downtown Napa
The Dutch Door in downtown Napa at 1245 First Street is a local gem worth visiting. Housed in a historic building that was once a bank, the restaurant is known for its traditional Dutch Door – a single door split in the middle to allow the top half to open while the bottom half remains shut. The name of the restaurant is derived from this unique feature.
The owners, Brent Pennington and Mike Casey, first opened the restaurant in 2019, and it was invaluable for many during Covid as you could walk up one by one and purchase your food. Since its inception, it fast become a popular place for locals and visitors alike. The food quality is what sets The Dutch Door apart from other quick and casual eating spots. The Dutch Door takes pride in using freshly sourced, local ingredients, which are thoughtfully prepared to offer a gourmet-style dining experience. While the restaurant maintains a casual atmosphere, it doesn't compromise on the quality of its food. This means that customers who are short on time can enjoy a delicious and convenient meal without compromising quality.
On the Menu
The menu is diverse and caters to various dietary requirements, with gluten-free and vegan options available. One of the menu highlights is the Buddha Bowl, a nutritious and delicious bowl packed with flavor. It contains quinoa & brown rice, roasted sweet potato, spiced chickpeas, super greens, roasted red pepper hummus, sprouted pumpkin seeds, and poblano tahini dressing. The standard serving is gluten-free and vegan, but you can add a protein of your choice to make it even more satisfying.
Another must-try at the Dutch Door is their fried chicken, which is absolutely to die for! The chicken is coated with Aleppo spiced panko, giving it a crispy and flavorful texture. It is served with an insanely good romesco aioli dipping sauce that complements the chicken perfectly.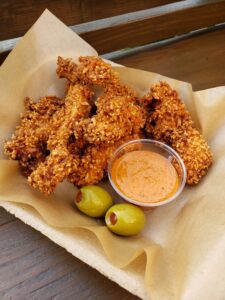 Check it Out
In conclusion, the Dutch Door in downtown Napa is a hidden gem that offers a unique blend of quality and convenience. Whether you're a local or a visitor, the restaurant's inviting atmosphere and delicious food selection will leave a lasting impression. The Dutch Door's commitment to using locally sourced ingredients and gourmet-style cooking techniques ensures that every dish is a treat for your taste buds. So, if you find yourself in downtown Napa for wine tasting or just exploring the area, stop by the Dutch Door for a quick and tasty meal. You won't be disappointed!