Discover the Unique, Sustainable, and Personalized Wine Tasting Experience at Azur Wines in Napa Valley
Azur Wines offers a unique wine-tasting experience in Napa Valley that stands out from other wineries in the area. One of the main differences is their focus on sustainability and environmental stewardship, as they only use sustainably farmed grapes and prioritize minimal intervention in their winemaking process. Additionally, the intimate and personalized nature of the Azur tasting room sets it apart from larger commercial wineries, as guests often have the opportunity to meet and interact with the owners and winemakers themselves.
Inside Azur's Tasting Room
The tasting room at Azur is a cozy and welcoming space decorated with natural materials, such as reclaimed wood and stone. There are also comfortable seating areas and a spacious outdoor patio with stunning views of the surrounding vineyards and mountains, allowing guests to relax and enjoy their wine.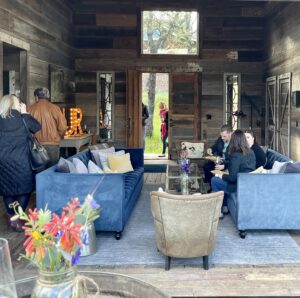 I adore that the tasting room exudes a warm and inviting atmosphere. It blends a rustic charm with modern touches that mirror the winery's pledge to preserve the environment and practice sustainable methods. There is also a spacious outdoor patio with stunning views of the surrounding vineyards and mountains. Above all, at Azur, the focus is on small-lot, handcrafted wines made from sustainably farmed grapes. 
The Winemaker and Owner of Azur Wines
The winery is owned and operated by female winemaker Elan Fayard. From a young age, Elan was intrigued by the world of wine, which led her to study international communications and French in college. This led her to study abroad in France and create her wine label. In addition, Azur's focus is on small-lot, handcrafted wines made from sustainably farmed grapes. 
Inspiration Behind the Vision
Further to my tasting experience, I had the opportunity to meet with Elan and learn about the inspiration behind Azur Wines.
NC: What inspired you to start this business, and what drives her to continue?
Elan: Initially, I was inspired by the French rose from Provence. When I returned from living in southern France for 2 years and moved to Napa, roses were sweet, so I said I would make the first rose dedicated to Rose production, quality-focused.
NC: How does your business differentiate itself from competitors in the industry? 
Elan: Wines with identity. Wines that are terroir-driven and quality focused. All the wines are elegant. Also, female-owned, which is not common, but we are expanding in that realm!
NC: Can you describe your company's core values and how they guide decision-making? 
Elan: Quality and authentic. Quality drives our vineyard partners, how we produce the wine and the experience. Authenticity is the true expression of this land through my interpretation.
NC: What are some of your business's biggest challenges, and how have you overcome them? 
Elan: Larger wineries buying up the best vineyards. It cuts out the smaller producers, so keeping up with these consolidations has been challenging.
NC: How does your business approach customer service and ensure customer satisfaction?
Elan: Connection. Connecting with guests is my number one goal. That is through the first hello, the quality in the glass to the decor that invites people to feel comfortable yet luxurious.
NC: Can you tell me about any recent product or service developments or innovations your business has implemented? 
Elan: My wine packaging, and I am thrilled to share that I am opening a wine lounge in downtown Napa which is slated to open in early June. This will not be your traditional tasting room. I will have Rose and Sauvignon Blanc on tap, wine by the glass, bottles, flights, and custom-labeled Azur champagnes! There will be local gatherings and invitations to the community for art classes and an authentic speakeasy inside the lounge.
NC: How will your business evolve in the next few years? 
Elan: If only I had that crystal ball! I am unsure but always in constant motion, so excited to see what is present.
NC: What advice would you give someone starting a business in your industry? Be unique. It's in doing something you love and introducing a rare varietal or way of producing wines that will help you stand apart.
Elan: Is there anything else you want our readers to know about your business? I also host women's retreats, luminousretreats.com, where we weave in wellness and wine!